24 Feb

How to Choose the Best Mobile Devices for Your Field Techs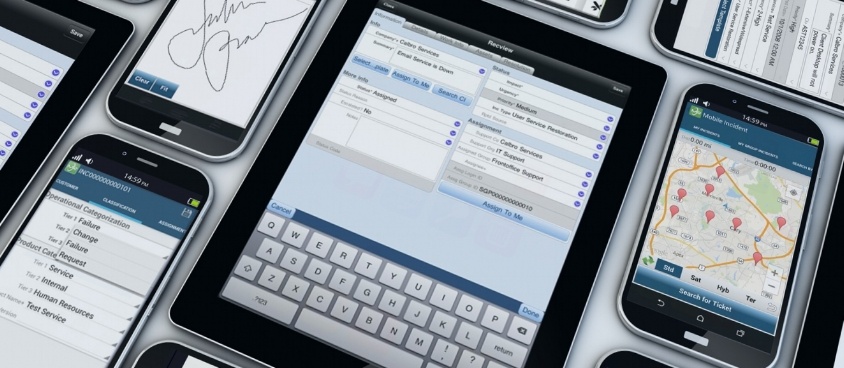 Serving customers on the front lines of the business, field technicians are the lifeblood of field service organizations. They must be equipped to quickly respond to service requests and easily navigate to the next customer site. Once there, they need to be able to manage work orders effectively, view information on equipment and its maintenance status, review schematics and diagrams, and check available parts and inventory. The most productive technicians are also able to check knowledge bases for recommended fixes, collaborate with colleagues, and make detailed notes.
For technicians to be optimally productive, the entirety of their complex workflows and business processes must be enabled via mobile devices. Providing your field techs with the right mobile devices is critical for efficient service delivery. In much the same way that a hammer won't suffice for a saw, a field techs' personal smartphone won't suffice for a ruggedized tablet when a detailed mobile workflow is involved.
Fortunately, there are several easy-to-use mobile devices available now that are specifically engineered for field technicians working in less than ideal conditions or extreme environments. To determine the best device to fully enable your field technicians, consider the following factors.
Travel time

: Evaluate the mode and time your field techs must travel to customer sites. Are your techs mostly driving or is air travel required?

Working environment

: What are customer sites like? Are they in data centers with strict security requirements? Are they in basements of high rise buildings with spotty network connectivity? Or, are they in middle of an ocean or on top of a cellular tower? There are ruggedized tablets that can withstand even the harshest environments. There are also hard-shell cases that can accommodate the use of a common iPad or Android tablet in harsh climates. Carefully evaluate the factors that field techs must operate in, including:

Availability of WiFi or cellular connectivity

Lighting

Times of day (i.e., are fixes so urgent that field techs must operate at night?)

Presence of dust, dirt, water, or chemicals

Potential extreme weather conditions — heat, cold, rain, wind

Level of mobile workflow complexity

: Some field techs don't have many tasks to document on service calls, while more technical fixes and inspections require a lot of data access and input. Often there are long and detailed forms and checklists. For these reasons, screen space is a vital consideration. Sometimes field organizations will be well served by leveraging the tech's personal smartphones, especially those with larger screens. Other field organizations with more complex workflows will want to provide field techs with large tablets to make data entry easier and more accurate.

Back-end IT environment

: Many field service management organizations rely on Windows-based service platforms and therefore prefer Windows-embedded or Windows-based mobile devices. This is changing as many service platforms are now cloud-based. iOS- and Android-based devices are by far the most prevalent in the enterprise currently. Because of the familiarity your field techs have with their own personal devices, there is no learning curve, which improves adoption rates.

Data capture requirements

: Would your techs benefit from being able to scan barcodes on assets to access important information? How about scanning a barcode to create new assets in your ERP? Many smartphones and tablets allow barcode scanning via the device camera. However, if your techs need to do inventories and bulk changes, they will require more robust scanning capabilities. In this case, consider the many peripheral laser scanning devices that are available. There are high-quality barcode scanners that attach via Bluetooth to a tablet or smartphone, making data capture on enterprise assets easy.
All of these factors are important to consider before equipping your field workers with mobile devices. It's also a good idea to survey your field techs for their input. Getting their buy-in on the devices they will rely on is critical. Having the right mobile tools makes their jobs easier and that translates into happy customers.
Get more insight on enabling your field technicians and engineers with our mobile field service apps guide.